Glaciers Edge Maintenance LLC Detail
When it comes to outdoor work like lawn mowing, pressure washing, and both residential and commercial snow removal, residents of Anchorage have a variety of choices. Since 1999, however,Glaciers Edge Maintenancehas made a name for itself as a truly dedicated grounds-keeping company. Whether the contractors here are working on snow shoveling for a residential home or taking on lawn maintenance for one of the area's larger property management companies, they emphasize consummate professionalism, expertise, and an untiring work ethic.

What kind of services doesGlaciers Edge Maintenance offer?

* Luxurious Lawns: When it comes to lawn care, this company offers one-time or regular lawnmaintenanceservices, including dethatching,mulching, mowing, aerating, fertilizer or lime treatment, edging, and watering. Your patch of green is guaranteed to sparkle when you work with the team here.

* Stellar Snow Removal: Alaskans know that their winters are no joke, which is why snow shoveling and plowing are jobs taken very seriously by these contractors. They have all the proper equipment for the task, including front-end loaders, skid steers, plow trucks, and blowers, and they're willing to work around the clock.

* Peerless Property Maintenance: Landlords, building managers, and homeowners alike rely on Glaciers Edge Maintenance for all of their landscaping and property maintenance needs, including bush or tree trimming, the installation of gardens, patio painting, and deck staining. They also offer pressure washing services for driveways and complete window cleaning services.

* The Best Building Maintenance: Available on-call 24/7, the licensed contractors at Glaciers Edge Maintenance take care of a variety of home and building maintenance jobs, including drywall repairs, dryer vent cleanings, minor plumbing repairs, electrical work, and tenant move-outs.

Clearly, this company is Anchorage's best option. The folks at Glaciers Edge Maintenance...
Websites:
website:
http://www.gemalaska.com
Email:
chris@gemalaska.com
Category:
Snow Removal
Business Hours:
Monday : Closed
Tuesday : Closed
Wednesday : Closed
Thursday : Closed
Friday : Closed
Saturday : Closed
Sunday : Closed
Glaciers Edge Maintenance LLC Special offer
Prepare Your Property For Spring With These...
Glaciers Edge Maintenance LLC Image(s)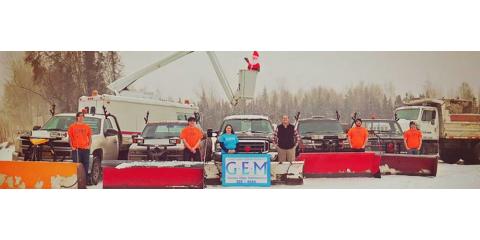 Glaciers Edge Maintenance LLC Comments