Done Rite Tree Company Detail
Done-Rite Tree Company is a locally owned Idaho business that was founded in 1995 By Gary & Tina Butcher. Over the years they have earned a reputation for being the Tree Company that can get even the most difficult and technical jobs done. Trimming and Pruning:Giving your trees and shrubs the care they need will greatly increase their health and beauty as well as add value to your home. Pruning can also improve the safety of your home or surrounding structures. Basic pruning consists of thinning, shaping, raising or removing dead limbs and branches. We do not employ harmful pruning practices such as topping or stripping.Tree Removal:Our equipment and skilled climbers enable us to remove even the most challenging trees safely and quickly. We specialize in the removal of dangerous standing and fallen trees and have quick access to cranes and other equipment to get the job done. We do lot and site clearings and work with developers and builders to facilitate their projects.Stump Grinding:Using our stump grinders, ugly stumps and nuisance roots can be removed to below ground level so that you have a nice smooth landscape. Stump and root removal allows for replanting in the area where the tree once stood.Cabling:All too often trees develop weak or poor structure, requiring special care to preserve them and prevent further injury. Even trees that are routinely maintained may develop weaknesses that affect their own safety and that of people and property. Cabling involves the attachment of a flexible steel cable between branches to limit excessive limb motion and to reduce stress on a crotch or branches. Cabled trees should be inspected yearly to confirm structural stability of the cables.
Email:
doneritetreeco@outlook.com
Category:
Tree Service
Business Hours:
Monday : 7:30 AM - 4:30 PM
Tuesday : 7:30 AM - 4:30 PM
Wednesday : 7:30 AM - 4:30 PM
Thursday : 7:30 AM - 4:30 PM
Friday : 7:30 AM - 4:30 PM
Saturday : Closed
Sunday : Closed
Payment Accepted:
Mastercard, Visa,
Done Rite Tree Company Special offer
Contact us today!
Done Rite Tree Company Image(s)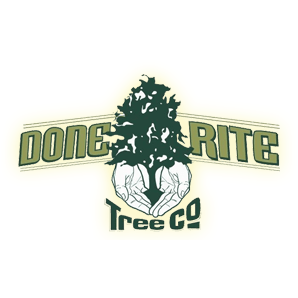 Done Rite Tree Company Comments