Phillips Repair Service Detail
Phillips Repair Service was
established in 1975, and since then they have developed a reputation as one of
the most reliable and affordable plumbing service providers in northern
Kentucky. In Boone, Campbell, Grant, and Kenton counties, homeowners and
business owners alike rely on this company, especially when emergency plumbing
disasters occur.

The prompt emergency service, available anytime,
day or night, is what sets this respected plumbing service apart from the
competition. Phillips Repair Service understands that some problems can't wait
until morning without causing major water damage, so their skilled
professionals are standing by to assist with any problem, from sump pump malfunctions
to boiler and water heater repair, as soon as possible.

Their speed and expertise also extends to
non-emergency services, such as full kitchen remodeling jobs and leaky faucets.
No job is too big or small for these plumbing experts, so whether you just need
a shower drain cleared or want an updated look for your bathroom, they will
provide the best service around, at prices you can afford. They will even
install top-of-the-line, complete water purification systems, providing cleaner,
healthier water for your home or business.

Phillips
Repair Service is the most trustworthy plumbing service in the area, with
unparalleled emergency service. For a complete list of services they offer or
to request an emergency visit, visit
theirwebsite or just call (859)
802-2300.


Websites:
website:
http://www.24hrnorthernkentuckyplumber.com
Category:
Plumbers, Water Heater Parts & Supplies
Business Hours:
Monday : 8:00 AM - 5:00 PM
Tuesday : 8:00 AM - 5:00 PM
Wednesday : 8:00 AM - 5:00 PM
Thursday : 8:00 AM - 5:00 PM
Friday : 8:00 AM - 5:00 PM
Saturday : Closed
Sunday : Closed
Phillips Repair Service Special offer
4 Tips For Preventing Burst & Frozen Pipes—From...
Phillips Repair Service Image(s)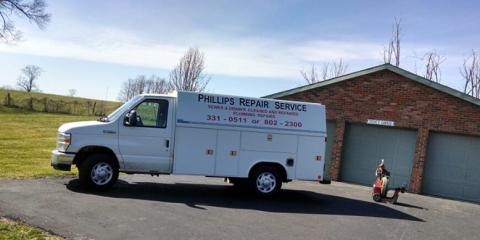 Phillips Repair Service Comments