The Paw Spa Pet Resort Detail
Whether you're going on an extended vacation or work trip, send your loveable dogs to a reliable kennel. Leading the way in luxury pampering, the compassionate and enthusiastic staff at The Paw Spa Pet Resort offers a 12,000-square-foot facility, on-site vet services, and 24/7 monitoring. Located in Omaha, NE, this trusted doggy day care is dedicated to giving your pooch the time of their lives.

Do you need overnight or extended pet boarding? The Paw Spa Pet Resort provides first-class lodging for all breeds on a daily, weekly, or overnight basis. Packages are affordably priced to meet your budget, and they include everything from playtimes and treats to feeding and medication administration at no extra cost. There's also a year-round swimming pool available for active swimmers. Cats are welcome to take advantage of the spacious catio, a special area for feline guests to bask in the sun and hang out.

Well-trained staff members keep a careful watch over the 4 to 6 hours of playtime activity and pool privileges. You and your family can also tune in to the daily activities via a live webcam. There's also an on-site veterinarian to administer vaccinations, run tests, perform small procedures, and provide prevention treatments.

Dog grooming services complete the spa experience at this kennel. These skilled dog groomers offer de-matting and de-shedding service, as well as dental scrubs and deep ear cleans. They use special equipment to express anal glands and clip and buff nails, rejuvenating pads and paws. Meet with groomers before the appointment to go over the specifics of each treatment.

Spoil your dog at The Paw Spa Pet Resort, the bona fide kennel your furry children deserve. Their team loves your pets almost as much as you. Call them today at (402) 516-8888 to schedule a stay or grooming appointment. Visit them online for a full list of services.
Websites:
website:
http://www.thepawspapetresort.com/
Email:
court.at.thepawspa@gmail.com
Category:
Pet Boarding, Pet & Animal Sitting, Exercising & Day Care Services, Pet Grooming
Business Hours:
Monday : 6:30 AM - 8:00 PM
Tuesday : 6:30 AM - 8:00 PM
Wednesday : 6:30 AM - 8:00 PM
Thursday : 6:30 AM - 8:00 PM
Friday : 6:30 AM - 8:00 PM
Saturday : 8:00 AM - 5:00 PM
Sunday : 10:00 AM - 4:00 PM
The Paw Spa Pet Resort Special offer
What to Know About Dog Separation Anxiety as You R
The Paw Spa Pet Resort Image(s)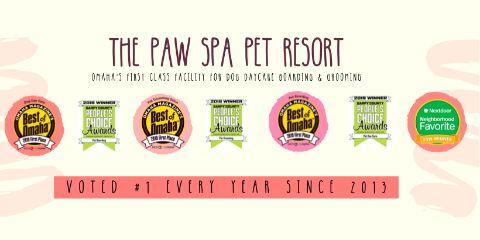 The Paw Spa Pet Resort Comments