Advanced Abstract Detail
Advanced Abstract has been providing title insurance for residential, commercial, and refinancing transactions since 1991 to Lehigh, Northampton, and all surrounding counties. Most of our employees, like our full-time, on-staff title searcher, have been with us for more than 10 years, meaning we have the experience and expertise to complete your searches quickly and effortlessly. We've been located in the same place since the day we opened our doors, and we have a private parking lot for the building, so you can be sure you can easily do business with us. Advanced Abstract is a licensed agency for Stewart Title, First American Title, and Fidelity National Title.
Websites:
website:
http://www.advancedabstract.com/
Email:
docs@advabs.com
Category:
Title Insurance, Title Companies & Agents, Public Notaries
Business Hours:
Monday : 8:30 AM - 5:00 PM
Tuesday : 8:30 AM - 5:00 PM
Wednesday : 8:30 AM - 5:00 PM
Thursday : 8:30 AM - 5:00 PM
Friday : 8:30 AM - 5:00 PM
Saturday : Closed
Sunday : Closed
Services:
Title Insurance, Real Estate Closings, Residential Title Insurance, Commercial Title Insurance, Escrow & Title Service
Advanced Abstract Special offer
Insuring your investment, securing your dream.
Advanced Abstract Image(s)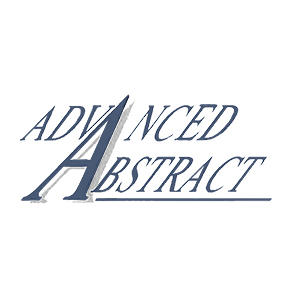 Advanced Abstract Comments