Beatty's Carpet Cleaners Detail
The Original Beatty's Carpet Cleaners Inc. in Altoona, Pennsylvania, is proud to offer truck-mounted steam carpet cleaning services for your home or business. We specialize in carpet and upholstery cleaning. We also specialize in ceramic tile and grout cleaning and sealing to make your home clean, beautiful, and healthy.
Websites:
website:
http://www.beattyscarpetcleanersinc.com/
Category:
Carpet & Rug Cleaners, Furniture Cleaning, Water & Fire Damage Restoration, Flood Assistance, Plumbers, Vacuum Cleaning Systems, Floor Waxing, Polishing & Cleaning
Business Hours:
Monday : 9:00 AM - 4:00 PM
Tuesday : 9:00 AM - 4:00 PM
Wednesday : 9:00 AM - 4:00 PM
Thursday : 9:00 AM - 4:00 PM
Friday : 9:00 AM - 4:00 PM
Saturday : Closed
Sunday : Closed
Payment Accepted:
Mastercard, Visa,
Beatty's Carpet Cleaners Special offer
If you are not satisfy it's free!
Beatty's Carpet Cleaners Image(s)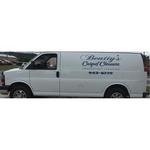 Beatty's Carpet Cleaners Comments